Notable Interviews: Dr. Harry Markowitz, Nobel Prize Winner
In June 2010, Walter P. Priebe, of Priebe Investment Plans had the honor of spending time with Dr. Harry Markowitz, an American economist and a 1989 recipient of the John von Neumann Theory Prize and the Nobel Memorial Prize in Economic Sciences in 1990.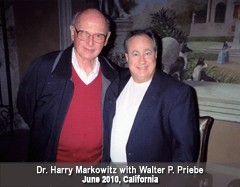 Born in 1927, Dr. Markowitz has applied computer and math techniques to different decision making ideas. He wrote an article about finance in 1952 and in 1959 he presented a book about what is now referred to as MPT, or Modern Portfolio Theory. This has become a standard topic in college courses and texts on investments, and is widely used by institutional investors for asset allocation, risk control and attribution analysis.
Dr. Markowitz's influence is far reaching. He developed techniques for solving very large mathematical optimization problems which are now a standard in production software. He designed and supervised the development of the SIMSCRIPT programming language which is widely used for programming computer simulations of systems like factories, transportation systems and communication networks. Dr. Markowitz is now a professor of finance at the Rady School of Management at the University of California, San Diego.
Dr. Markowitz spoke one-on-one with Walter about the evolution of portfolio theory and the role diversification plays in the current financial markets. The meeting was a very important milestone for Walter Priebe and his lifelong commitment to learning about the investing business.
Walter meets Louis Navellier at Newbridge Securities' Top Brokers Conference, May 2018, in the Bahamas.